…
TECHNOLOGY
The New 500 Action hatchback features advanced technology designed improve your safety while driving, enabling you to enjoy journeys at their best.
AUTONOMOUS EMERGENCY BRAKING
Safer for you and everyone else on the road: the New 500 Action hatchback brakes automatically to help to avoid or mitigate collision with other vehicles, pedestrians or cyclists, at up to 80mph. At first, the car just alerts the driver with an acoustic and visual warning in the instrument cluster; if the driver does not respond, the system activates the vehicle's brakes, helping to avoid or mitigate potential impact.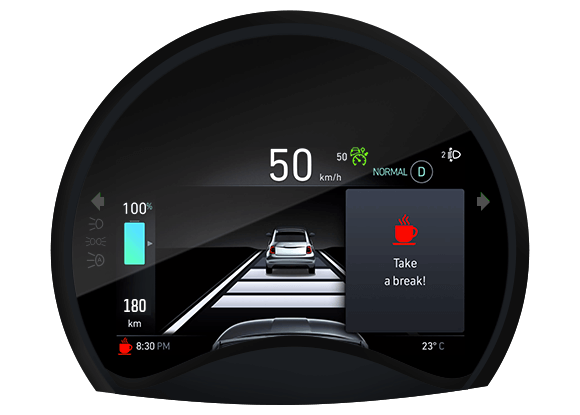 KEEPS YOU AWAKE
Driver fatigue will no longer be a problem: the New 500 Action hatchback helps you to stay alert behind the wheel. The system can detect the initial signs of fatigue by monitoring lateral movements of the vehicle, advising you to take a break where necessary via a visual and acoustic warning on the instrument cluster.
KEEPS YOU ON TRACK
Travel safely in your own lane. When you are driving over 37 mph, the New 500 helps to prevent you from accidentally drifting across road lines, autonomously keeping you in your lane. When the system detects that the vehicle is about to unintentionally drift out of its lane, it warns the driver via visual, audio and haptic signals (a vibration in the steering wheel), in order to counter-steer as necessary.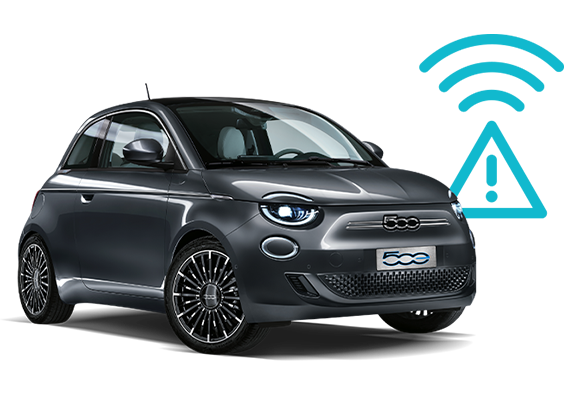 EMERGENCY CALL
Your vehicle always has your back, especially in an emergency. In the event of a severe accident causing the deployment of the airbags, an automatic emergency call will be forwarded directly from a dedicated in-vehicle system to a 112 European Emergency Number. Your position and vehicle status will be immediately transmitted to facilitate a faster rescue, and an SOS button is easily reachable in front of the interior rear view mirror; it can be pressed to receive quick help when in need.* * The system only activates in case of severe accident and airbag deployment.