…
THE LATEST SAFETY FEATURES 
A trusted co-driver, always by your side: the All-Electric Fiat 500 is the first small electric car available with Assisted Driving Level 2, which means a superior level of safety in the urban mobility.
CRUISE CONTROL 
Be in control of the speed you want to travel at: just set your speed and the All-Electric Fiat 500 will maintain it during your journey. 
AUTONOMOUS EMERGENCY BRAKING
Safer for you and everyone else on the road: the All-Electric 500 can brake automatically to avoid or mitigate collision with preceding vehicle, pedestrian or cyclist, at up to 80 mph. At first, the car alerts the driver with an acoustic and visual warning in the instrument cluster, and if the driver does not respond, the car breaks helping to avoid or mitigate potential impact.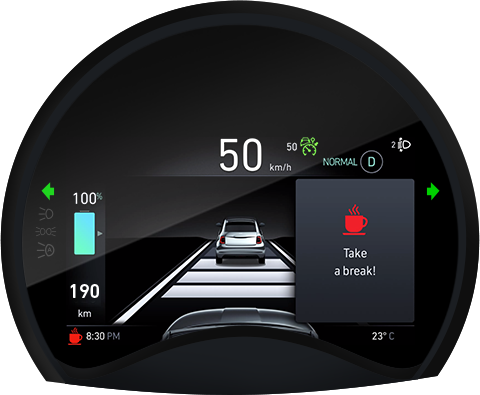 KEEPS YOU AWAKE
The All-Electric 500 helps you to stay alert behind the wheel. The system can detect the initial signs of fatigue by monitoring lateral movements of the vehicle, advising the driver to take a break where necessary.
KEEPS YOU ON TRACK 
The All-Electric 500 helps you to stay on track with active lane keeping assistance. If the car drifts out of its lane without indicating, the system will automatically detect the movement and warn the driver, automatically steering the car back in lane if necessary.