…
BETTER TECHNOLOGY
The new Tipo range features Adas systems to help you drive safely and enjoy every moment on board.
CRUISE CONTROL
Control the speed you want to travel at: just determine it and the new Tipo Life Sedan will maintain it during your journey.
LANE CONTROL
If the car moves out its lane unintentionally, while driving over 60 km/h, the system will provide a visual indication on the instrument panel accompanied by resistance of the steering in order to bring the car back into lane limits.
FRONT / REAR PARKING SENSORS
Take it easy on any road and also when you park: at low speed, you will not accidentally bump in a car or a brickwork anymore. Under 13 km/h, the parking sensors placed on the front and rear fascia of your Tipo Life Sedan detect any obstacle around the vehicle and notify the driver of rear object proximity.
INTELLIGENT SPEED ASSIST AND TRAFFIC SIGN RECOGNITION
The new Tipo detects and recognizes traffic signs and displays them on the TFT cluster. With speed limiter active it's also possible to limit the car's speed to the maximum allowed level read by the Traffic Sign Recognition system.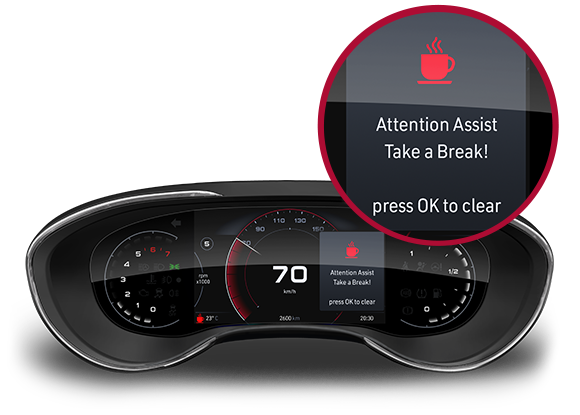 ATTENTION ASSIST
The system can detect the initial signs of fatigue by monitoring lateral movements of the vehicle, advising to take a break. A visual and acoustic warning will be recorded on the instrument cluster.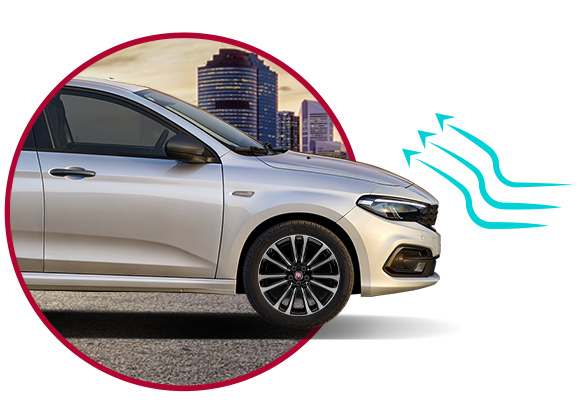 ACTIVE GRILL SHUTTER
This system optimizes aerodynamics by using vents within the grille to adjust airflow to the engine department. It grants a faster engine warm up, reduces noise and protects the cooling unit.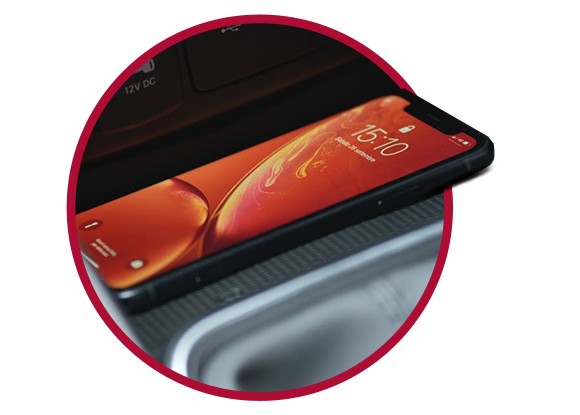 WIRELESS PHONE CHARGER (optional)
New to the Tipo range, the wireless phone charger keeps your device charged and connected, without cables in the way.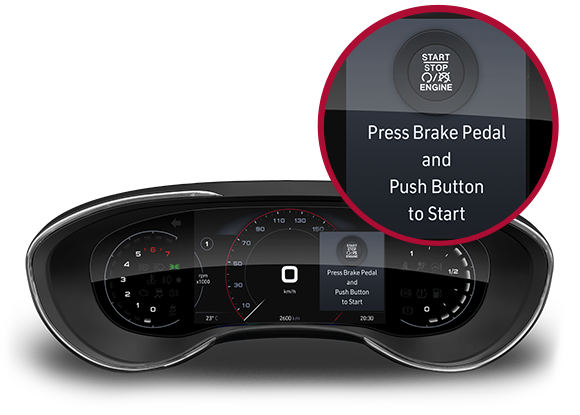 KEYLESS ENTRY / GO (optional)
No need to use the car keys anymore: you just need to carry them with you in order to open the door and get on board.
BLIND SPOT ASSIST (optional)
When driving above 10 km/h the new Tipo Life Sedan will detect objects in the blind areas both on the side and on the rear of the car and will alert you with an acoustic signal and a light on the side mirror. Also, this function helps you to detect an oncoming vehicle in a parking lot situation during reverse maneuvers.
ADAPTIVE HIGH BEAM (optional)
Makes nighttime driving safer ensuring wide visibility by enabling to drive with high-beams all the time while avoiding glaring to oncoming vehicles or vehicles ahead.